What's The Difference Between Paint Protection Films And Ceramic Coating? What is the best?
To know the best for your car you should first know that both are not alternative to each other. Ceramic coating is not alternative for paint protection film and vis versa.
Let us dive into those questions.
What's a Paint Protection Film?
Paint Protection Film is a transparent, urethane material which may be put on to the outside painted exterior on cars. briefly, car Paint Protection Film preserves the quality of your car's paint by decreasing the danger of several damage types, such as:
Chips as well as scratches caused by rocks as well as road debris
Swirl marks produced during washing
Synthetic stains due to acidic contaminants
Synthetic etch marks due to acidic contaminants
water areas that are Hard from mineral deposits
Oxidation (fading) from UV exposure
What's a Ceramic Coating?
A Ceramic Coating is a liquid polymer which is used on the exterior surfaces of a car (there are another types can be applied for the car interior too). After implementation, it chemically bonds with the vehicle's original paint, starting a level of safety & a hydrophobic covering. It is liquid layer with 0.01 Micron Thickness after dry. The hydrophobic qualities associated with a Ceramic Coating allow it to be more difficult for contaminants to connect with your car's paint. This has two primary benefits for the automobile owner.
It can help maintain the automobile cleaner for longer.
It will make the automobile easier to clean up once the time does come for a wash.
A Ceramic Coating will additionally help decrease the risk of particular damage types, such as:
Synthetic stains due to acidic contaminants
Synthetic etch marks due to acidic contaminants
Oxidation (fading) from UV exposure
Similarities between Nano-Ceramic and Paint Protection Film
As you are able to see, both programs work the objective of keeping your automobile looking more new for longer by protecting as well as preserving your vehicle's paint.
The 2 ways of protecting have some overlapping performance characteristics. Specifically, both programs help reduce damage from Acidic contaminants and UV exposure.
In the long run, in case you choose to buy Paint Protection Film or maybe a Ceramic Coating, you'll be adding value to the car.
Differences between Paint Protection Films and Nano Ceramic Coatings.
Regardless of these similarities, Paint Protection Films as well as Ceramic Coatings have considerable differences and also serve distinct functions.
Thickness wise; Paint Protection Film is 250Microns (3M Film – highest thickness) while each single layer of Nano Ceramic Coating is only 0.01 Micron. Additionally, Paint Protection Film has a chemical structure that permits it to self heal the minor scratches; that's, it comes back to the classic form of its after getting an indentation and abrasion. These characteristics make Paint Protection Film able to process rock chips, swirl marks, small scratches, and water drops that are tough without becoming completely disfigured.
A Ceramic Coating isn't self-healing or even healing. The swirl marks can easily polish it like sanding paper in polishing job. Regardless of the crazy claims of certain companies as well as installers, a Ceramic Coating doesn't reduce the danger of rock chips, swirl marks, scratches, and drinking water drops.
Nevertheless, Nano Ceramic Coatings have its strength point, especially in conditions of the hydrophobic covering they produce. Several Paint Protection Films are built with a hydrophobic clear coat, though they frequently don't do at exactly the same degree as a complete Ceramic Coating. Additionally, whenever you use a Ceramic Coating to your automobile you receive the advantages of the hydrophobic qualities of its on every surface area without having to put on film to the entire vehicle.

What is the most effective solution? The ultimate Protection for cars?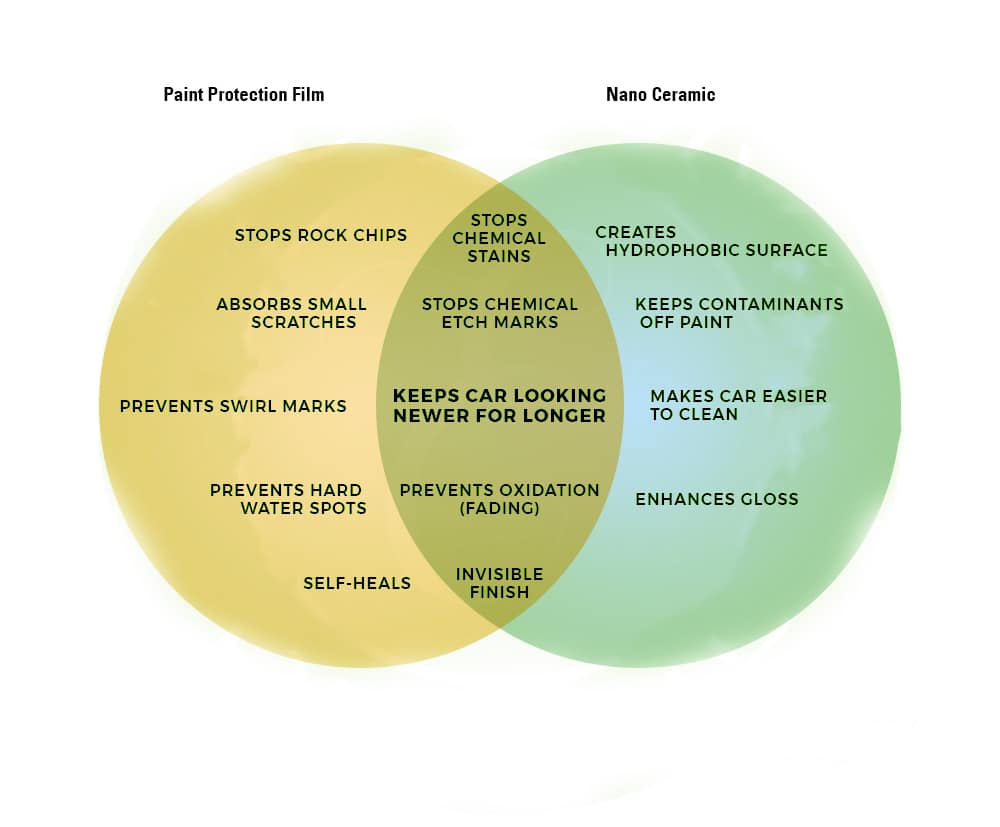 Here is the best part. You do not need to choose one or the other solution. your car condition isn't similar to mine, my car park is the street with lovely children play all day long. The try to have good handwriting on my car so I don't even think in Nano-Ceramic. Someone else car's condition is lighter than mine , Stay usually in garage. rarely been used. Nano Ceramic is the ultimate use in this case. They are able to both be put on to the very same vehicle. But, the dynamic duo of Paint Protection Film along with a Ceramic Coating may be the supreme form of invisible safety you are able to buy for your car.
Here is just how it really works.
Paint Protection Film is used first to the areas of the car that will be very prone to rock scratches or chips from road debris. Since a Ceramic Coating doesn't guard against this particular damage type, it is essential to use Paint Protection Film to these places. This usually comes with the front bumper, rocker panels, side mirrors, fenders, hood, and back wheel arch.
After the most susceptible places are protected with Paint Protection Film, the whole car gets a Ceramic Coating. The covering will bond to both vehicle's the film and factory color which has been applied. When applied in addition to film, coating is going to provide an extra layer of defense from chemical stains and etching. It'll additionally help to keep the film neat and free from contaminants, that will lengthen the lifetime of the film.
Almost everywhere else on the automobile, whether shielded by make or perhaps not, the Ceramic Coating will thwart oxidation as well as substance etch marks or perhaps stains. Furthermore, the hydrophobic covering is going to make it more difficult for contaminants to bond on the automobile, maintaining the color cleaner and making it much easier to clean. The sleek surface area of the Ceramic Coating will boost the gloss of your vehicle's factory paint.
Together the 2 solutions are going to protect your car's paint with the long-term, and improve the appearance of it on a daily basis.
Drive Protected
Thus in case the goal of yours is protecting as well as preserve your car's paint to ensure it appears to be stunning daily the drive of yours it, a mix of Paint Protection Film along with Ceramic Coating might be the ideal match for you personally.
Are you prepared to drive secured? In that case, communicate with us right now to plan a scheduled appointment or even ask some inquiries you might have about just how you are able to protect your car's paint.